Jarosław Głowacki - President of the Management Board
A graduate of the Warsaw University of Technology, Faculty of Power and Aeronautical Engineering, specialization in Systems and Energy Devices. He also completed the postgraduate study of Local Government and Local Development at the University of Warsaw, Faculty of Law and Administration and Postgraduate Study of Local Government Leaders, University of Warsaw.

He gained his professional experience in the "Stalchemak" steel foundry in Siedlce, where he was employed as a constructor in 1987-1990. Since 1990 he was employed at the City Hall in Siedlce; since 2005 he was the Deputy Mayor of the City of Siedlce. An experienced local government official - he was a councilor of the second, fifth and sixth tenures of the City Council of Siedlce.Expert of the Regional Operational Program of the Mazowieckie Voivodeship and the Łódź Province.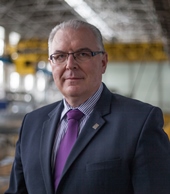 Tomasz Wilczak - Member of the Management Board - Vice President for Technology
A graduate of Poznan University of Technology, Faculty of Civil Construction - field of study: Environmental Engineering, specialty: heating and ventilation. He also completed doctoral studies at the Poznan University of Technology.

In the years 2005 to 2007 Undersecretary of State in the Ministry of Economy. In 2007 he was associated with the Office of Technical Inspection. Previously, he served on the management boards of companies from the ENEA SA Group.
Author and co-author of numerous publications in the field of heating, tests of heat exchangers and other devices, and automation of heating systems.
Radosław Czapski - Vice President of the Management Board
A graduate of the Warsaw University, the Faculty of Power and Aeronautical Engineering where he earned his master's degree in engineering, specializing in aeronautical automation.
His professional experience started in Power Industry Company in Siedlce; between 1999-2000 he was in involved in the construction and exploitation of gas power heat plant. In 2010 he was responsible for constructing of a combined cycle unit which was moved from CHP Starachowice to city of Siedlce. He worked there as a construction manager. He has all electric, power heat and gas qualifications.
He is interested in volleyball, action movies and rock music.
Dawid Jaworski - Member of the Management Board
He is a graduate of the National Business School - National-Louis University. He also completed postgraduate studies at the AGH University of Science and Technology in Krakow and doctoral studies at the Warsaw School of Economics. He has CFA (Chartered Financial Analyst) and ERP (Energy Risk Professional) certifications.
Since 2011, he has been associated with the PGNiG Group, where he has worked in finance and investment in the hydrocarbon exploration and production sector. He led acquisitions, investment and reorganization projects. Previously he worked at the Financial Supervision Commission, in the field of capital market supervision.